Went with Cliff and Charlie over to Jarad's home in Aurora to cut up some wood for Pam's new kitchen cabinets on a dull but warm Denver morning. After a couple of hours cutting Jarad and I locked horns at Darts in his garage, now having not thrown a dart in a couple of years I was a little rusty but after loosing the first couple of games I started to get a little better and was able to win a couple of games and make the scoreline respectable in an England v USA battle. An hours worth of darts and I would say an amicable draw was probably achieved as we shook hands and parted to head back to see the girls who had been out shopping.
Keith showed up today a long awaited arrival but better late than never, always a pleasure for me to see him but definitely an eeek! moment for Jamie and as soon as they get together its like they have never been apart? This time was slightly different though because just behind their usual hug was Reagan…
We had decided before his arrival to go to Chipoltes for tea so it was agreed that the three of us would drive the two blocks to pick up our order and we would all eat together….the following photo reminds me of the last time Jamie drove here and was pulled over by the police. She was pregnant then too and Keith and I were extremely drunk on margaritas and it was a sobering experience for me thinking my wife may get arrested for driving with me in the back "shittin' me bastard self" whispering don't say anything just do what what ever he says…lol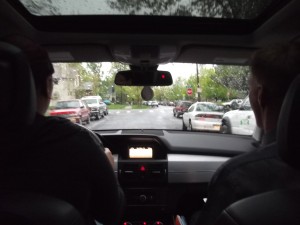 This content is restricted to site members. If you are an existing user, please login. New users may register below.