We watched the last in the series of 'One born every minute' last night a fly on the wall documentary about a maternity ward and what goes on there. Not sure I would have been so interested if we weren't expecting a child too but it was very graphic and sort of prepared certainly me for some of what to expect. It was very graphic at times and showed that it can go wrong as well as right when giving birth but the midwives nurses and doctors were all so professional and coped with all scenario's and from what I've experienced in Leighton we will be in good hands too!
Jamie watched whilst bouncing on her birth ball, I think wishing she was at least in labour or actually in hospital giving birth but more likely bouncing on the ball with baby in hers arms? Her Branston's are happening every day now which are uncomfortable and she is doing everything she can to turn them into labour. We finished the night off with a couple of episodes of Prison Break Series 1 which is quite addictive once you start watching them!
I, at the moment, apart from doing this blog am re-writing the pool website www.steventons.co.uk which I have been maintaining for over a year now also trying to get another website written for the Phoenix-5 a group of lads I go walking with a few times a year. I really enjoy web-design and I'm learning all the time how to improve things. It can annoy Jamie at times because when I get involved in it I become so engrossed she can't talk to me!
Jamie spent the day shopping in the morning and cleaning kitchen cupboards in the afternoon, we tidied and began to clean our slightly messy (from last night) kitchen when I was home at dinner but Jamie carried on all afternoon? While shopping she asked the pet shop owner If her waters break in the shop does she get free pet food for a year? He said she does but unfortunately they were nearly at the car by then as he was carrying the bags to our car!
Tonight I will go out to play pool, apprehensively because I will be expecting a call saying get home quick its started but me going out might bring it…not sure that's how it works but if it does, YAY!
Photo's of the day are our animals, they are a lot better together now but here Jack is messing with Sasha and she is saying any closer dude and I'll scratch your eyes out!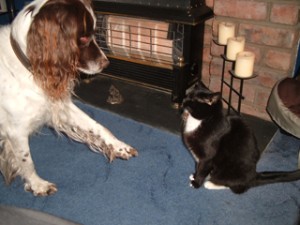 Jack is old (nearly 13) and Sasha is young fast and a killing machine (ask the mice round here) I love Jack and tolerate "the cat" no matter what Jamie tells you! Jack is practically blind and has a snotty nose but has a great quality of life and I love taking him for walks. Sasha is a cat.
I have just been out to play pool and I need to go on the record that Jamie coming out in a storm to pick me up was ALL Jamie's idea and I was fully prepared to walk home but she drove to the pub 36weeks 5 days pregnant just to save me the trouble…I love her even though she's STUuuuBURN!
Night all, more inane drivel tomorrow! 😉
This content is restricted to site members. If you are an existing user, please login. New users may register below.