CRASH BANG ….silence SCREAM!
The crash got our attention, we immediately stopped what we were doing!
BANG we were frozen listening!
The silence the worst bit because its the moment the panic sets in!
The scream is bitter sweat because the scream means it's not serious, in a she's conscious and is feeling pain but there lies the bitter straightaway OMG she's hurt?
I was on the computer and Jamie was hoovering the "kids" room when it happened. We both dashed to Reagan who had pulled an unsecured full length mirror (very heavy) onto herself although she was sat by the wardrobe and it had come to rest next to her but she was screaming trying to shake hold suck her hand\arm area?
A very quick assessment of her and it was her index finger on her righthand that was the problem and it was going black very quickly! We scooped her up and reasurred her that it will be alright and took a close look at her finger much to the dismay of Reagan and I have to sat it looked BAD!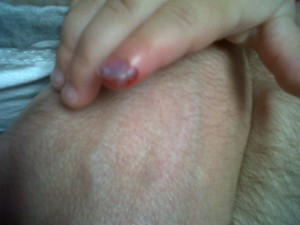 We were panicking to say the least and Mommy was ready to ring the "Emergency Room" but Reagan had now stopped crying and I was watching her and she was bending it and if you handed her something she would use it gingerly to take it from you. The problem was the blood that was building up behind her nail so we decided to pop the blister with a pin and to her credit as she hugged her Momma she let me do it and didn't even murmer.
It helped straightaway and over the next few hours just got better and better to the point that at bathtime she had forgotten about it!
We were absolutely beside ourselves when it happened and blaming ourselves for not moving the mirror and we should have been watching her and and and….! We realise this is not the last time by any means that she will hurt herself and we can't watch her every minute but it doesn't make us feel any less guilty this time but at least she's OK!
This content is restricted to site members. If you are an existing user, please login. New users may register below.