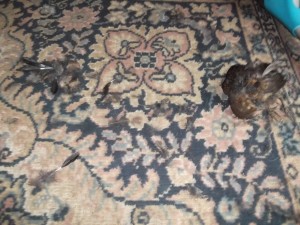 "Who's cat is it anyway?" I don't think even Jamie knows lol but for the record she enticed it into the house soon after she arrived on this island and said she would look after it, so I agreed because I knew it would make her happy. Since then I have looked after the cat because Jamie went and got herself pregnant ALL the time and gave me that as an excuse why she can't empty cat litter, clean up the lawn or as we call it the killing field etc
I think the present, or as I like to call it a slaughtered female blackbird carcass, was for me because she knew with Jamie and Reagan in bed still it would be me cleaning it up AGAIN!
P.S. We will get that laminate flooring as soon as we can afford it lol
This content is restricted to site members. If you are an existing user, please login. New users may register below.